"Industry innovation, market integration" the eighth Guangzhou sunshade doors and windows exhibition opens
On July 8th, the 8th Guangzhou Sunshade Door & Window Exhibition of "Industry Innovation and Market Integration" opened again in Guangzhou International Purchasing Center. More than 700 manufacturers were invited to attend the exhibition, seven pavilions, exhibition area of nearly 70,000 square meters, creating a new high in the industry exhibition.
The exhibition is sponsored by Guangzhou Slogart Exhibition Planning Co., Ltd. The purpose of the exhibition is to create a professional exhibition for domestic sales and Southeast Asian traders. Guangdong Door and Window Association, Guangdong Lock Industry Association, Guangdong Door Industry Association, Foshan Automatic Door Industry Association, Foshan Door and Window Industry Association, Zhangzhou Electric Door and Window Industry Association and other major associations actively participated in the Guangdong News Channel, Guangdong Pearl River Channel, Guangdong Today Innovation and more than 20 media units came to the scene to implement the newspaper. Road, promotion of this exhibition.

The original theme of the exhibition, the addition of green environmental protection formaldehyde-free all-aluminum home, intelligent and safe fingerprint locks. To provide more new products and open up new markets for dealers all over the country. Guangzhou Sunshade Doors and Windows Exhibition as a leading industry wind vane, fully demonstrates the latest building energy-saving products and cutting-edge technology for many years by the industry's attention and support!

The exhibition gathered: windows and doors screen, all aluminum household, shading aluminum art, courtyard doors and stairs, electric doors and windows, copper and aluminum carving, hardware locks, villa garden eight theme industry manufacturers. Build a bridge for enterprises to connect real estate developers, design units, planning institutes, engineering units, urban construction departments, distributors and other purchasing buyers in China and Southeast Asia, and build a platform for the exchange of sunshade doors and windows in China. Integrating the resources from all walks of life in the upstream and downstream of the industrial chain to provide a high-quality business platform for the industry, thus promoting the healthy and sustainable development of the industry.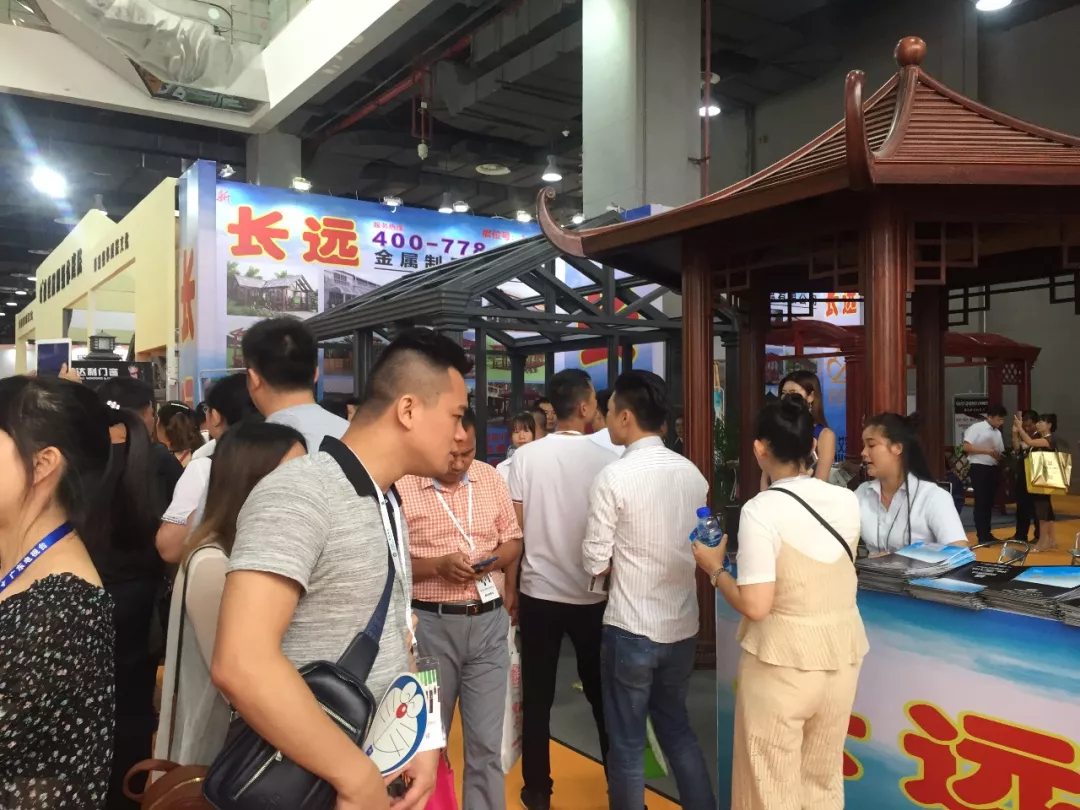 Walking into the meeting hall, nearly 8000 square meters of outdoor glass curtain wall advertising atmosphere, a row of truss advertising neatly arranged. The exhibition on-site signs are clear and detailed, the exhibition on-site negotiation atmosphere is lively and harmonious, and the peak forum activities lead the development trend of the industry. It has created a real feast for manufacturers, distributors and engineering firms.
Dealers from all over the country, real estate development factories and other friends are coming to discuss cooperation and share business opportunities. I wish every exhibitors good results.
Two forum activities wonderful interpretation, industry innovation, leading the industry.
July 8th 2018 win win sales strategy of win-win cooperation
One
July 8, 2018 hardware lock Summit Forum:
The event was held on July 8, 13:30 in the forum area of Guangzhou International Purchasing Center Pavilion 6, sponsored by Guangdong Lock Industry Association, attended by Luo Guozong, chairman of Guangdong Lock Industry Association and Lu Weixin, executive vice-chairman of Guangdong Lock Industry Association. Wu Changsheng, chairman of Foshan Knight Lock Industry Co., Ltd., will analyze the trend of fingerprint lock development and the future market. And the release of new products, and explained the fourteen year marketing plan and profit model of nite. This event enables you to see the excellent product of nite lock industry and the new profit mode of hematopoiesis. There are more than 100,000 yuan of mysterious gift raffle activities, the scene atmosphere is warm, market forward-looking analysis so that the industry has a different outlook on the intelligent lock industry.
July 9th industry innovation, one-stop procurement of steel art courtyard
Two
The event was held on July 9th at 11:00-14:00 forum 6, Guangzhou international procurement center. Nearly 20 professional professionals were invited to the event. Industry innovation, creative future clouds, steel courtyard industry coffee gathered, invited guests to analyze the industry development trend, and invited the star Hua Shao Chen to support the deduction, on-site good gifts, so that the entire forum activity into a climax. As a leading enterprise in the steel courtyard industry, the delegation includes Yuzhong, Guangdong Guangyun Earth Metal Material Co., Ltd., Foshan Shield Metal Products Co., Ltd. [Dongheng Honggang] Wei Zong, Foshan Emperor Sheng Caigang Art Zone, Foshan City National City Advertising Media Program, Shandong Weifang Boguan Painting Equipment Co., Ltd. Zhu Zong, Foshan City Hanze Foshan Shuanglong Cold Bending Machinery Factory Zhang Zong, Foshan Jingmei Sculpture Zhou Zong, Hebei Zhongtian Door Co., Ltd Wang Zong, Foshan Xihong Advertising Planning Cheng Zong, Foshan Folding Door Accessories Zhu Zong, Fujian Omak Intelligent Technology Co., Ltd. Lu Zong, Foshan Yuanmei Machinery Co., Ltd. Zheng Zong, Chuangtong Hydraulic Mr. Liu of Pinyi Machinery, Mr. Liu of Weihang Hardware, Mr. He of Warrior Casting Aluminum Factory, Mr. Wu of Foshan Customer-funded Door and Window Products Co., Ltd., Mr. Chen of Foshan Bishui Longting Door and Window Intelligence Co., Ltd., and Mr. Feng of Zhongshan Zhiyu Security Technology Co., Ltd. participated in the activity. This activity will explore the future development direction of the industry and lead the development of the industry.
The holding of this exhibition, once again thank the exhibitors for their support and dedication, thank the media friends for their vigorous promotion and publicity, we work together to promote the development of the industry unremitting efforts. At the same time, I would like to thank the friends of dealers, building materials industry, real estate developers, designers and other friends for coming.
2019-8-10
The ninth Guangzhou sunshade doors and windows exhibition, let's meet again!